Beans:
Just like eggs, we eat a LOT of beans. Full of protein, heart healthy, and inexpensive as well.
Black bean quesadillas:
This is the number one thing that we make with beans. We have these at least once a week.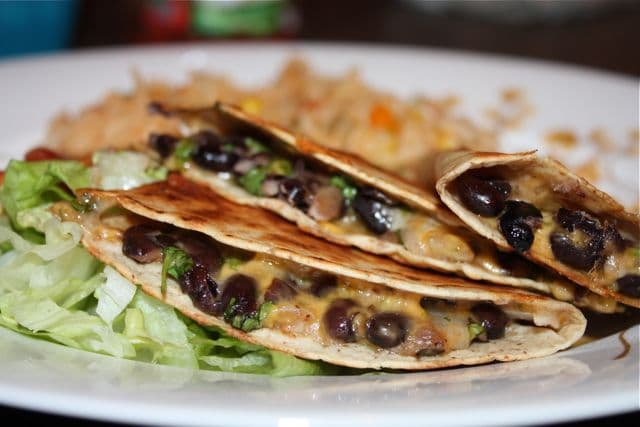 What's nice is they are versatile as well. Throw in salsa, avacado, sour cream, veggies - whatever you got and whatever you want. I like mine with a little ranch, and lots of cheese and lettuce. Brigham dumps hot sauce all over his. So fast and easy!
Bean tacos:
Hamburger is so expensive and can be fatty as well. I've found if you cook a can of kidney or black beans in taco seasoning - just as you would meat - it tastes the exact same and we don't miss hamburger at all.
I'll cook up some kidney beans in taco seasoning and throw them in pretty much any Mexican cuisine to replace the meat.
Hard-shell tacos
Soft-shell tacos
Tostados
Taco Salad
I'm not the biggest fan of enchilada's so I haven't tried any of the several recipes that I've pinned yet, but the theory is essentially the same, just replace the meat with beans. I eventually want to try this
Black Bean Spinach Enchilada
recipe. Sounds healthy and could be pretty tasty!
If you don't like beans IN your Mexican food, you can be like Brigham and just add some chili powder, hot sauce, and lime juice to some black beans and pair that with a cheese quesadilla, that way you still get your protein.
Black Bean and Corn Salsa:
I've made this salsa a billion times, partly because it's to easy, and partly because it is SO delicious. Even my kids love it. I found the recipe on the back of a Western Family can of Black Beans:
1 can (or 2 cups) of Black Beans Drained
1 bunch of green onions sliced
1 cup chopped tomatoes
1 can (or 2 cups) of whole kernel corn drained
1 tsp ground cumin
1/2 tsp chopped jalapeno peppers
salt and garlic powder to taste
Combine all ingredients in a bowl. EAT.
I let it sit for awhile to marry the flavors, and I like mine chilled. But then I eat it all. We will serve this for dinner with tortilla chips and some Mexican rice or cheese quesadillas. When tomatoes are in season we eat this a lot. It's full of veggies and has your protein with the beans, and it just tastes so fresh. You could also season it whatever way you like. Make it spicy, or add a garlic spin, or put in some cilantro or lime juice. Whatever you want! Ugh, now I'm craving this badly.
Baked Beans:
If you want to take a break from the Mexican bean meals, you can always make a good dish of baked beans. I have a slow cooker cookbook that has a billion baked bean recipies that I go through and combine a couple of them based on what I have around the house. Slow cooker baked beans are delicious.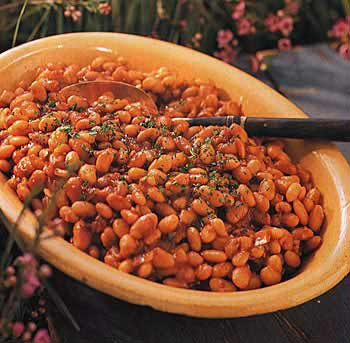 Pair them with a baked potato and some corn on the cob. Or eat them with some steamed veggies. Basically, they'll take care of the protein if you're craving some bbq but don't have the meat.
Vegetarian Chili
My husband sure is a fan of chili. There are eighteen hundred different recipes for chili, including vegetarian chili recipes. On allrecipes.com I found a
Unbelievably Easy and Delicious Vegetarian Chili Recipe
. This might be helpful for you to use if you want to try it out.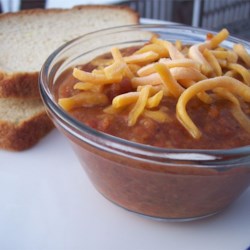 Just like with the Baked beans, I usually combine a bunch of different vegetarian chili recipes based on what I actually have around my house. Some recipes you can throw in lots of veggies, some are more tomato-y, and some are more soupish. We prefer a more traditional chili recipe at our house and if I remember correctly, the one I linked above sticks closely to that. But you can just research the type you want to make and experiment with the different types of chili since there are SO many options.
Hummus:
I am not a fan of hummus; the texture really gets to me for some reason. Even if I enjoy the flavor, the texture of hummus throws me off and I really don't eat it. However, for the general population, hummus tends to be a favorite which is good because it's high in protein, since it's made out of garbanzo beans, and you can eat it on celery and other vegetables for a super healthy snack. There are tons of recipes for different variations of hummus, which I would recommend because garbanzo beans are so cheap and store-bought hummus can be expensive.
There is one recipe that has been tempting me and that is
Avocado Hummus
.
This recipe has simple ingredients and, maybe because I love avocados so much, actually sounds good to me. I'd have to try it to find out, but I am veeerrry curious. For all you other hummus-lovers out there, with the avocado it has even MORE protein. So you've either got a protein-packed snack or lighter meal for lunch.
Roasted Chickpeas:
A great high-protein snack is roasted chickpeas, or garbanzo beans.
I've made these and they are pretty good. You can make them in many different flavors; this picture is a recipe for sweet and salty roasted chickpeas. I like them because they are crunchy and curb my craving for chips or popcorn.
Garbanzo beans are SO good for you. They have tons of protein and fiber, help prevent heart disease, lower cholesterol, prevent iron deficiency, and more. Studies have shown that people who have healthy diets already and eat these everyday have additional health benefits than those who don't.
Seven Layer Dip:
I love seven layer dip. It's easy to make, so so so so good, and a crowd pleaser.
Although this might not be AS healthy as some of the other bean recipes because you are using refried beans, cheese, and adding sour cream, it still has the protein and you can pile it with salsa, tomatoes, avocado, onions, and whatever other vegetables you want on it. It really can be a meal in and of itself with the protein, dairy, carbs, and vegetables.
For a casual Friday dinner, we've had huge helpings of seven layer dip and chips with corn on the side or rice. Just make sure that for every can of refried beans, you mix it with one tablespoon of taco seasoning. That's the secret to making it taste awesome. For years I was making seven layer dip without that key step. Finally, I complained to my mom that my dip never tasted as good as hers, and when I described how I made it she quickly pointed out my error. Don't skip that step. You'll regret it.
Those are my basic bean recipes folks. You can find way more if you try and you'd be surprised how much you can do with those things. As my dad would say:
Beans beans, good for the heart,
The more you eat them, the more you fart,
The more you fart, the better you feel,
So lets eat beans for every meal!